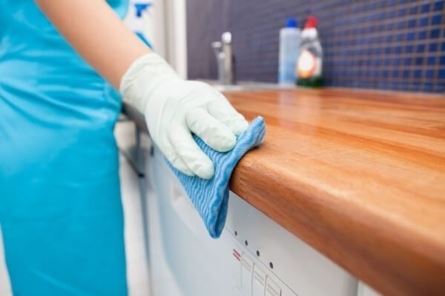 The unfortunate reality is that the Coronavirus is still raging across the state of Florida. And with the Omicron variant proving to be more dangerous all the time, it's just as important as ever that commercial property owners do everything they can to protect themselves and their employees. That's why FP Property Restoration proudly offers disinfecting service to help prevent the spread of the virus in your office facility. Keep reading to learn more about where the COVID-19 virus can live in your office space, and remember that for all your commercial cleaning and disinfecting needs, you can count on our pros at FP Property Restoration.
5 Places in Your Office the Coronavirus May be Present
The Kitchen: Not only is the kitchen a place in your office that all employees use, it also contains many of the kinds of surfaces that the Coronavirus has been found to live on. We're talking about the metal of the fridge, the plastics in and around that fridge, aluminum in cans, any kind of glass or ceramics, as well as silverware, cookware, and dishes. For this reason, it is an extremely good idea to switch to all disposable utensils for the time being, and to make sure this area is even cleaner than it normally is.
The Bathroom: The bathroom is the other part of the office pretty much guaranteed to get a lot of use. Scientists believe the Coronavirus can live 5-9 days on metal, 2-3 days on plastics, and 2-3 days on stainless steel—all of which are likely to be found in the restroom. Moreover, unlike the kitchen, it is even more likely that people will be touching the same surfaces in the bathroom, as well as potentially touching their faces (a classic COVID no-no,) making periodic disinfecting in the bathroom practically essential.
Entrances & Exits/Mailroom: As people enter and exit your building, it is guaranteed some individuals will touch the same surfaces. This means conventional doors, as well as entrances and exits, are potential hotspots for COVID-19 transmission. In addition to the surfaces listed above, Coronavirus can also survive for up to four days on wood, so if you work in an older building with wooden doors, this is something you will definitely want to watch out for. Also, remember to be careful with what comes in and out of the mailroom, as it is thought that the virus can survive for up to 24 hours on cardboard.
Furniture: Now may not be the time to expand the common area in your office. Virtually all of the materials listed above can be used to make furniture, and for the moment, it is best to encourage employees to stay in their own spaces, rather than sitting on or around communal surfaces. That said, some office interaction is impossible to avoid, which brings us to…
The Air: Ultimately, surface transmission of the Coronavirus remains fairly rare. Aerial transmission is far and away the primary way this disease is being spread, which means that as long as there are people in the office, the virus may be passed through the air. That's not to say you shouldn't call a professional for disinfecting, especially when at FP Property Restoration, we may be able to provide filtration methods to help get rid of the virus, too. However, it is important to weigh the risks of returning to the office, and consider what precautions you are willing to take to prevent aerial transmission as much as possible (i.e. masks, social distancing, mandated vaccinations and testing.) Ultimately, it is up to all of us to curb the spread of this virus, and at FP Property Restoration, we are here to help you do just that!
A Few Things You Can Do to Prevent the Spread of COVID in Your Office
The following recommendations from the CDC can help prevent the spread of COVID-19 in commercial properties:
Cover your face to prevent spreading the virus to others in your community.

Keep high touch surfaces such as light switches and doorknobs clean at least once a day. You may want to consider disinfecting more frequently in high-traffic areas, such as offices, classrooms, and commercial buildings. This will help prevent the spread of infection to your employees and customers.
You should consider stocking your healthcare facility with hand sanitizers, disinfectant solutions, gloves and masks that are EPA-registered.
Emergency Covid-19 decontamination
Decontamination specialists at FP Property Restoration specialize in Omicron COVID-19. During the pandemic, we combine our expertise in safe biohazard cleaning with the latest virus disinfection technology to support our clients. Our quick response can help you protect and reassure your staff and customers if your organization is affected by an outbreak of COVID-19.
FP Property Restoration is available by phone 24/7 at (888) 408-2335, or you can fill out our contact form online.